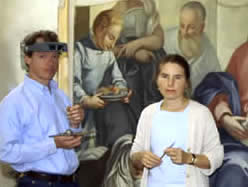 Seit über 30 Jahren Kompetenz und Erfahrung

Daniel Fabian, dipl. Restaurator & Joan Samuels Fabian, Restauratorin, B. A. History of Art
1987 Eröffnung des Ateliers für Restaurierung in Zürich zusammen mit Joan Samuels, Umzug nach Stäfa am Zürichsee 1996.
2008 Umwandlung der Einzelfirma in FABIAN RESTAURATOREN GmbH
Ausbildung u. a.:

Harvard University, Center for Conservation and Technical Studies
University of Cambridge, Hamilton Kerr Institute
Bryn Mawr College, USA, History of Art
Kunstmuseum Basel
Kunstmuseum Bern
Schweiz. Landesmuseum

Weiterbildung, Vorträge etc.
2018 Authentication in Art, Tracing the Source,: Lead isotope research on Rubens, Van Dyck and Jordaens. Den Haag
2014 Kunst & Recht 2014. Juristische Fakultät der Universität Basel.
2013 Masterclass plastics: Identification, Degradation and Conservation of Plastics: Thea van Oosten and Anna Laganà, University of Amsterdam.
2013 AIC workshop: Identifying Historic Paint Colors and Schemes by Making 'Exposures' on Walls, Birdsboro, PA, USA.
2012 9th Masterclass 20/21: Dry Cleaning Methods for Unvarnished Painting: Maude Daudin-Schotte, Porto
2010 Cleaning 2010 New Insights into the Cleaning of Paintings, Valencia.
2006 Modern Paints Uncovered, Tate London.
2005 EU-ARTECH Workshop on Seventeenth Century Northern European Painting Techniques, National Gallery London.
2004 Peter Paul Rubens Technologie und Restaurierung, Wissenschaftliches Kolloquium Braunschweig.
2000 Rubens' Painting Practices, Rubenianum, Antwerpen.
1993 Richard Wolbers, Susan Buck, Cleaning Methods, Bad Wiessee.
1991 Art in Transit, International Conference on the Packing and Transportation of Paintings. London.
1986 Richard Wolbers, Cleaning Methods, Balboa Art Conservation Center, San Diego, California.
Authentication in Art Congress The Hague 2018:
Tracing the source, Lead white isotope research on Rubens, Van Dyck and Jordaens.

Daniel Fabian, Andreas Franz, Beat Fischer u. Peter Meier: "Die Freilegung der mehrfach überstrichenen Malereien in Vestibül und Wintergarten" in Die Villa Patumbah in Zürich – Geschichte und Restaurierung. Zürcher Denkmalpflege, Monographien Denkmalpflege 7, Amt für Raumentwicklung, Kantonale Denkmalpflege, Kanton Zürich, Baudrektion 2014.
D. Fabian, Andreas Franz, Beat Fischer, Peter Meier: Dokumentation Patumbah Los 3 "Vestibül und Winter- garten" Restaurierung 2011-2012, ARGE f3m z. Hd. Kantonale Denkmalpflege 2013.

D. Fabian: Einblick in die Restaurierung von KunstwerkenVolkshochschule Stäfa und Umgebung 2013 Kurs 62E.
D.Fabian: Skalpell, Meissel, Pinsel & Co.
Referat Rotary Club Küsnacht 2012

D. Fabian, G. Fortunato, Tracing White In: European Trade in Materials, Archetype London 2010.
D. Fabian: Über die Restaurierung von Kunstwerken – ein kleiner Rundgang. Referat. Rotary Club Meilen, 2008.
D. Fabian: Dirt Wind & Fire – Sofortmassnahmen nach einem Brandfall Zeitgenössischer Kunst. Referat SKR Jahrestagung "Aus den Flammen gerettet" Lugano, 2006.
D. Fabian: Aspekte des Reinigens von Gemäldeoberflächen.Referat, Hochschule der Künste, Bern, Fachbereich Konservierung und Restaurierung. 2006.
D. Fabian, V. Köppel, G. Fortunato
Following the trace of lead white pigments in 17th century paintings. EU-ARTECH Workshop on Seventeenth Century Northern European Painting Techniques, to be held at the National Gallery London on December 12th 2005.
G. Fortunato, A. Ritter, D. Fabian,
Highlights of Analytical Chemistry in Switzerland Investigations of Ancient Lead White Pigments using Lead Isotope Abundance Ratios Chimia 2005, 59, No. 4 177.
G. Fortunato, D. Fabian, A. Ritter,
Old Masters Lead White Pigments: Investigations Of Paintings From The 16th To The 17th Century Using High Precision Lead Isotope Abundance Ratios Analyst / Royal Society of Chemistry 2005, 130(6), 898 - 906.
D. Fabian
Über das Restaurieren von Kunstwerken – Kulturkreis Zumikon. Referat 18. Januar 2005.
D.Fabian, G. Fortunato,
Lead-isotope ratios of lead white in paintings of the seventheenth-century, oral presentation, "Peter Paul Rubens Technologie und Restaurierung", Wissenschaftliches Kolloquium in Braunschweig, Deutschland, 1./2.Oktober 2004.
D. Fabian, G. Fortunato,
Bleiweiss-Isotopenanalyse an Gemäldeproben des 17.Jahrhunderts – Zwischenbericht eines laufenden Projektes ZKK 2/2004 371 - 379.
D. Fabian, G. Fortunato, Bleiisotopen-Verhältnisse in Pigmentproben aus Gemälden des 17.Jahrhunderts, NIKE 2-3/2004.
G. Fortunato, D. Fabian,
Assessing the origin of white lead pigments from the 17th century using high precision lead isotope abundance ratios and trace elemental analysis. Vortrag Venedig Okt. 2003.
D. Fabian,
AxaArt AON Kunst auf Reisen, Tagung, Zürich 2003.
D. Fabian,
Referat am Symposium des Rubenianum in Antwerpen. Rubens' Painting Practices. Vortragthema : The Conversion of St. Paul – Technical Observations on Selected Paintings by Rubens in The Collections of the Prince of Liechtenstein. 2000.
(Publikation geplant)
D. Fabian,
De Jongelingen in de gloeiende Oven - Examination of a large panel painting by Pieter Pietersz". In: Restoration under Observation – A tribute offered to Derek Snoep on his retirement from the Frans-Halsmuseum , Haarlem 2000.
D. Fabian,
Wan eim ein geschossener Pfeil im Lieb ist plieben -Technologische Untersuchung zu Rubens' Venus vor dem Spiegel aus den Sammlungen. des Fürsten von Liechtenstein. In: L'Amour de l'Art. Hommage an Paolo Cadorin. Parole di Charta XIII, Mailand 1999.
D. Fabian,
Aspekte des Restaurierens. Seedamm-Kulturzentrum Bulletin, 1991.
H. Samuels, P. Samuels, J. Samuels, D. Fabian,
The Technique of the Painters of the American West, The Wellfleet Press, Secaucus, NJ, USA, 1991.

Bindemittel in der Staffeleimalerei des 19. Jahrhunderts. Mitarbeit am Nationalen Forschungsprogramm 16: Methoden zur Erhaltung von Kulturgütern des Schweizerischen Nationalfonds zur Förderung der wissenschaftlichen Forschung. 1989.
J. Samuels, Nathan Stolow
The Museum Climatology and Visitor Use Study Project at Hearst Castle. Western Association for Art Conservation Newsletter 1987.
D. Fabian
Man with a Beer Keg, attributed to Frans Hals. Technical Examination and some art-historical comments. Fogg Art Museum, Harvard University 1984.
D. Fabian
A Study of panel paintings from the earliest beginning to 1640. Hamilton Kerr Institute, University of Cambridge 1982.
Mitgliedschaften
AIC American Institute for Conservation
ICOM International Committee for Museums
IIC International Institute for Conservation
SKR Schweiz. Verband für Konservierung und Restaurierung

Gründungsmitglied u. Co-Koordinator Fach-
gruppe Architektur und Denkmalpflege
Nofallgruppe

Fachgruppe Gemälde und

zeitgenössiche

Kunst
SVBR Schweizerischer Verband Bild und Rahmen
WAAC Western Association for Art Conservation
Sprachen
Deutsch, Englisch, Französisch, Italienisch, Arabisch (A1)